If the box is sold out, you may add your email address to the waiting list to be notified when it comes back in stock.
Hey beautiful! In today's tutorial I will show you how to create a seed bead bezel around a L2Studio artisan cabochon in the Galaxy Oval shape. L2Studio ceramic pieces are handmade, so each one is unique and one-of-a-kind; a true treasure! The blue cosmos on light clay variety has the most stunning deep indigo color, and contains very fine silver sparkles that remind me of a night sky.
All materials from this project come from the Moonlit Terrace box that I curated in collaboration with BeadingSchool, but you can also pick up the materials separately, as well. Please see below for the list and links of the items that you will need:
Galaxy Oval Bezel Inspiration:
I admit that when first choosing this uniquely-shaped cabochon for the Moonlit Terrace box I didn't have a clue as to what I wanted the bezel to look like, or which beads would be used to accomplish the task. I did know, however, that this would make for a challenging, but beautiful design.
Before attempting to create a bezel, I traced the cabochon onto a piece of paper. With my pencil, I started doodling designs around the tracing. What struck me right away, as I was drawing potential bezel ide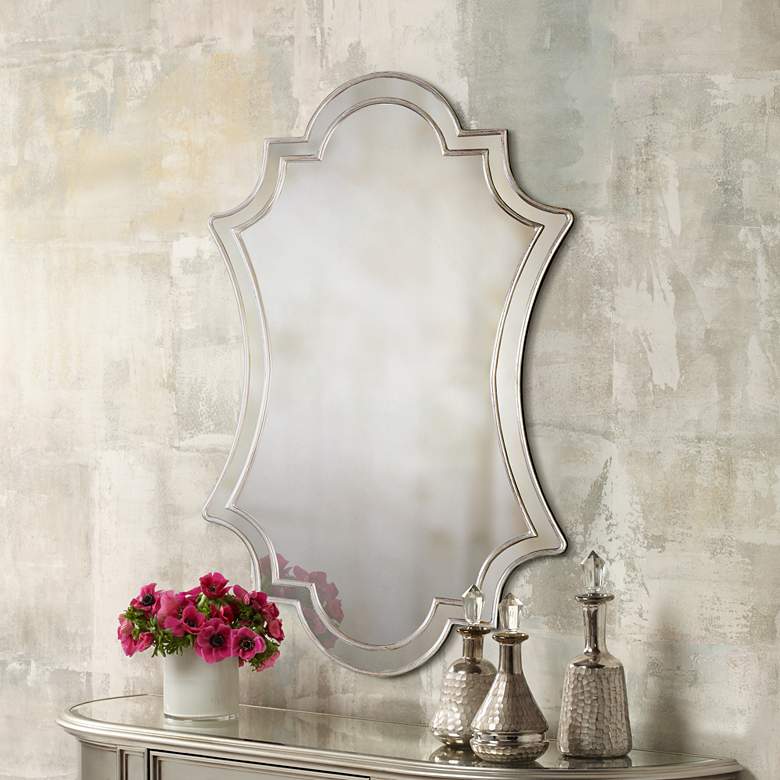 as around the various angles, is that the galaxy oval shape is reminiscent of an antique mirror. With that idea in mind, I approached the creation of this particular bezel with the intention of creating a mirror frame-like bezel to accentuate the interesting lines. 
The final bezel design includes seed beads placed in a way so that they hug the angles of the galaxy oval, keeping its form in tact. The outer beadwork incorporates SuperDuo beads, 2mm druk beads, and additional seed beads, sewn in a way to accentuate the various peaks of the frame-like bezel.
More About the Moonlit Terrace Box:
Moonlit Terrace is the theme name I chose for the very first BeadingSchool x ORCHID and OPAL bead box collaboration. Inside, you will see a combination of mysterious shades of indigo blue, sparkling silver, shadowy gray and black, and lush shades of teal and purple. Make sure you watch until the end of the video to see TWELVE finished pieces which may be made from the contents, and get excited for even more new tutorials to come!
Moonlit Terrace Box Contents:
Check out More from BeadingSchool:
What Have I Made with Bead Box Contents?
*I was sent products in order to facilitate this tutorial; however, the thoughts and opinions are my own, and I do not continue to promote products I do not recommend.